After last year's extremely successful Christmas Wine Fest, the new sponsoring committee has decided to give you even more choice with the next Easter promotion: Packages with beer & sausages and/or wine & cheese. Plus, as you've come to like from us: we'll deliver it to your home on April, 3rd. OR pick it up when you drop off your kid for the Easter Highland games at the club. You can let us know on the payment page.
In cooperation with Lindenhoff, we have put together two fantastic packages for you, which contain something delicious for everyone. The organic farm from Baambrugge stands for authentic taste and is probably well known to many of you. The family business Lindenhoff delivers to restaurants in Amsterdam and the surrounding area and has its own butcher shop and market for private individuals. Their mission is to produce as sustainably as possible, with respect to plants, animals and the planet. Read more on the website! www.lindenhoff.nl.
We have an Easter package with various delicious special beers and organic, authentic Lindenhoff sausages. We also offer an Easter package with a delicious bottle of Lindenhoff red wine, the most delicious Lindenhoff organic cheeses and of course a special surprise!
Please note: Payments can best be made in a Chrome or Firefox browser. We've noticed Safari often blocks the necessary popup to fill out 3D Secure data, e.g. an extra password with your bank.
No Easter without eggs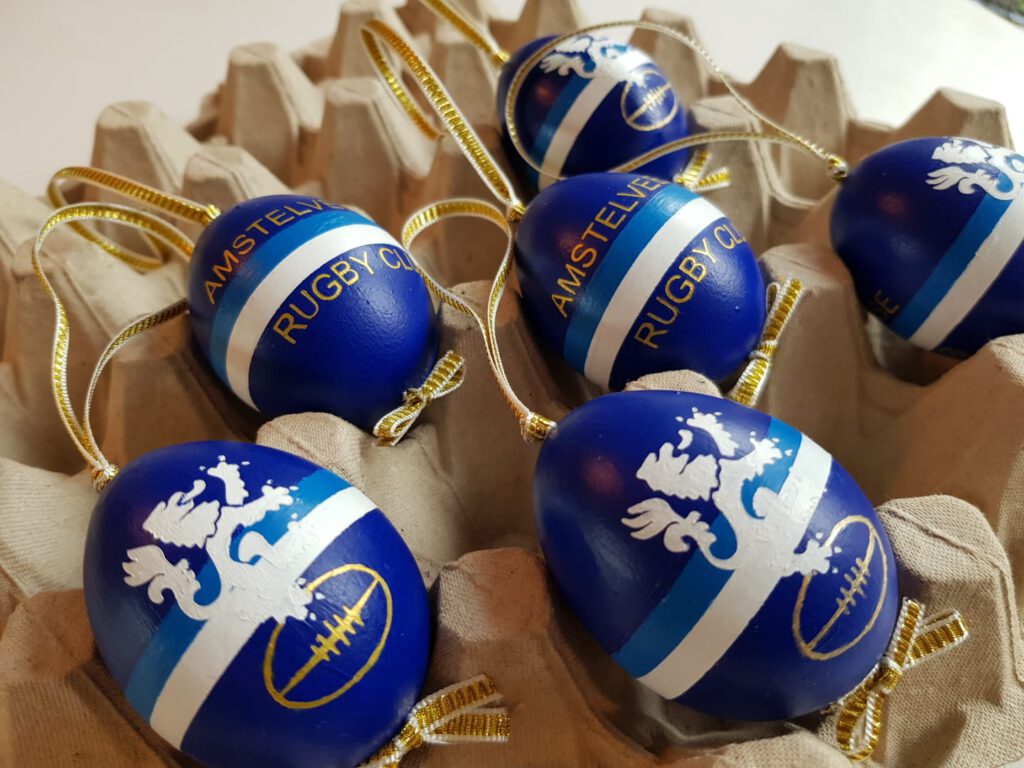 Nothing says SPRING! and shows off your club colours and #BlueHeart than this fantastic, hand-painted egg to put in your hazelnut branch. This heartwarming and super sympathetic action is set up by Wiebke, our MemberAdmin.

All eggs are personally and lovingly made by Wiebke herself have our lion and Amstelveense Rugby Club on them and come with a satin ribbon loop.
€ 20/pc of which €10 is donated to ARC!
Great for you. Fantastic for sharing!
Beer Lover €25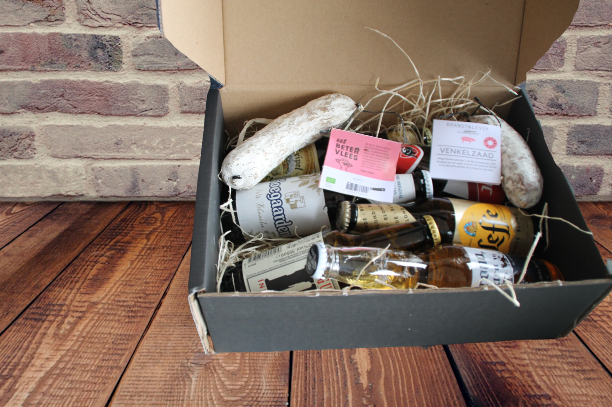 Did someone say 'Beer'? Surprise yourself, or better, surprise yourself and a buddy.
– 6 special beers
– 1 dry Lindenhoff sausage, Brandt & Levie – fennel, allspice
– 1 dry Lindenhoff sausage, Brandt & Levie – chipotle – cocoa
Wine Connoisseur €35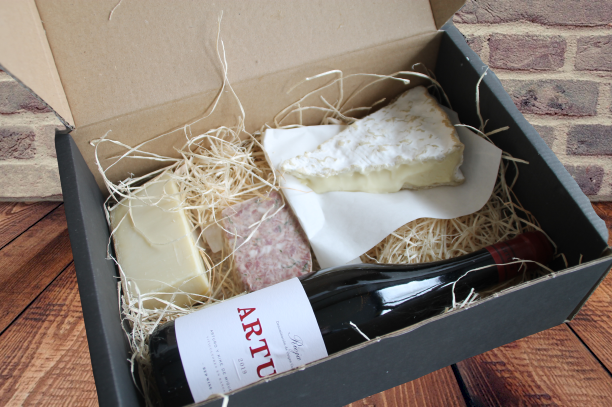 Classic? No way, this is timeless & delicious. Trust us!
– 1 Bottle Rioja Maceracion Carbonica, Tempranillo
– 150 gram pâté de campagne Lindenhoff
– 250 gram Comte Juraflore
This cheese is made from raw cow's milk from Abondance and Montbéliarde cows, which provide quality milk and graze on high mountain pastures. The dairy of winter cheeses is straw yellow (more hay) and that of summer cheeses (grass and meadow flowers) deeper yellow. Young cheeses taste of grass and herbs and are mild; winter cheeses have a more burnt aroma; hazelnuts and hay. 12 months of ripening already give the cheese a nice taste of nuts, herbs, milk and cream.
– 250 gram Brie de Meaux
Brie de Meaux is produced about 50 km east of Paris. This widely known, refined cheese should absolutely not be compared to its pasteurised relatives that we find in the supermarket. The cheese has a compact pate with small holes, the colour is straw yellow. The Brie de Meaux has a slight mouldy smell and is full of sweet smoky aromas.
– 1 hell of an Easter surprise
Best of Both Worlds €60 €55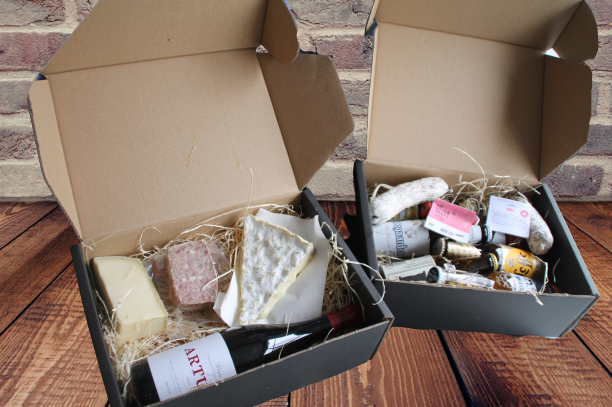 For those who like to mix it up, something for everyone! (2 boxes)
– 6 special beers
– 1 dry Lindenhoff sausage, Brandt & Levie – fennel, allspice
– 1 dry Lindenhoff sausage, Brandt & Levie – chipotle – cocoa
– 1 Bottle Rioja Maceracion Carbonica, Tempranillo
– 150 gram pâté de campagne Lindenhoff
– 250 gram Comte Juraflore
– 250 gram Brie de Meaux
– 1 Easter surprise
Beer Buddy €50 €45
'We neeeeeever drink alooooneeeee'. So this is the perfect opportunity for beer tasting with your drinking buddy during lockdown.
– 12 special beers
– 2 dry Lindenhoff sausages, Brandt & Levie – fennel, allspice
– 2 dry Lindenhoff sausages, Brandt & Levie – chipotle – cocoa
More Wine Seems Fine €70 €65
2 Bottles of Rioja Maceracion Carbonica, Tempranillo
– 2x 150 gram pâté de campagne Lindenhoff
– 2x 250 gram Comte Juraflore
– 2x 250 gram Brie de Meaux
– 2 Easter surprises