Of je nu speler, supporter, of rugbyveteraan bent: zonder jou geen ARC! Onze club draait op onze gezamenlijke inzet. Als speler of ouder van onze jongere spelers draai je bijvoorbeeld af en toe een bar- of keukendienst.
Nieuwe verenigingsstructuur: nieuwe vacatures
Zoals aangekondigd in de van ALV vorig jaar gaan we de management structuur van ARC updaten. Het 3-koppige bestuur zal zich in de toekomst gaan bezig houden met de visie en de hoofdlijnen van de club.
Daaronder komt een 'managementlaag' met commissiehoofden en support voor de 'dagelijkse gang van zaken'. Er boven een 'Raad van Toezicht'. We zullen dit geleidelijk en in samenspraak met de leden doorvoeren.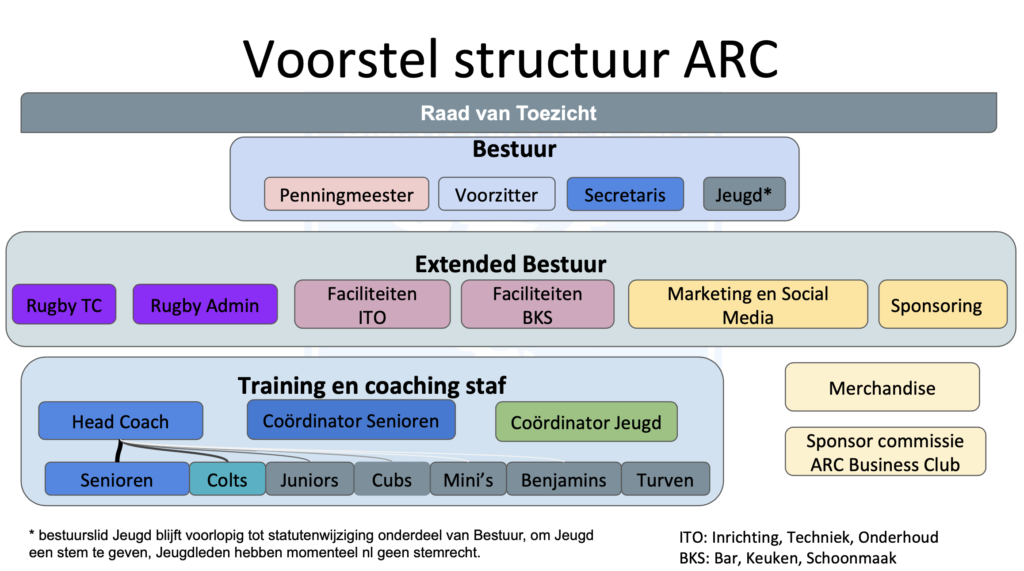 Openstaande functies:
● Voorzitter
● Secretaris
● Wedstrijdsecretaris
● Vrijwilligerscoördinator
● Teammanagers senioren
● Schoonmakers
● Barbeheerders
● Sponsorwervers
● Onderhoudsmedewerkers
● Ledenwervers
● Communicatie medewerkers (content creators, webmaster – WordPress, Digitale Transformatie vrijwilliger – Zoho)
● Marketing medewerkers
● Scheidsrechters
● Lijnrechters
● Coaches
● Trainers
● TBM coordinator
● Referees
● Clinics coördinator
● Materiaalman
● Scouting commissie
● Visitors commissie
● Events commissie
Meer doen? Je kunt helpen bij evenementen op de club, een scheidsrechterscursus volgen, vlaggen langs de kant van het veld en ga zo maar door. Voor een structurele vrijwilligersfunctie kun je kijken in het totaaloverzicht van functie- en taakomschrijvingen van vacatures bij ARC. Jouw bijdrage wordt ontzettend gewaardeerd; een dankbare taak!
Interesse in deze of een andere vrijwilligersfunctie? Stuur een mailtje naar secretaris@arcrugby.nl of spreek één van de bestuursleden aan.
Links & Documenten
Totaaloverzicht functie- en taakomschrijvingen ARC – (NL, PDF)