Hello to all my friends from the mighty ARC! "Hoe is et met jou? Alles goed? Lekker Weer, he? Prima."
[apart from still being able to order beers, and counting to 10, that's all the Dutch I remember!]  
Cris contacted me recently and asked me to send through some memories and reflections on my time living and playing rugby in Amsterdam.  I jumped at the chance as I often think about my time there, and it always brings a smile to my face. At home I have a special box with my old ARC jerseys, team shirts and CDs (iTunes hadn't been invented then!), and opening it every now and then is like opening a photo album – I remember lots of amazing times that were possible through being a rugby nomad that was lucky enough to somehow end up at ARC 1890 for 3 ½ seasons!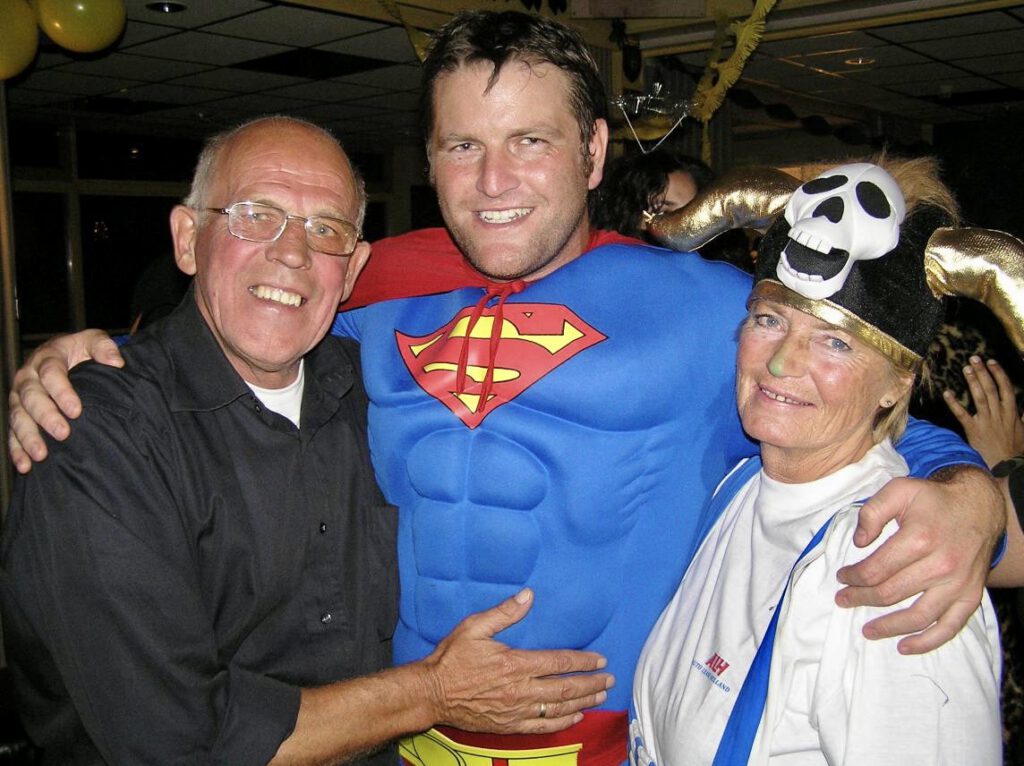 Amsterdam I arrived in August 2002 planning to play for one season, and left over 3 years later having thoroughly enjoyed working and living in the incredible city that Amsterdam is. Amsterdam was an awesome experience, vibrant and beautiful, a big city but also so small and accessible on the fiets, history, museums, parks, music, football, nightlife….and rugby of course…..incredible. But mostly when I think about my time there, I think about the kindness, warmth and comradery of the great friends that I made living there for 3 years, who were so welcoming and made the Netherlands experience such a fun one. It was the unique experiences with my newly found Dutch friends, other rugby nomads, team mates and club supporters that I look back on most fondly.

I remember;
Immediately being welcomed into homes for dinners, bbqs, Sinterklaas dinner (including learning to write the poems) , Dutch Christmas lunch,
Numerous visits to those amazing little Belgian bier bars (de Zotte still my favourite) to learn the difference between Mc Chouffe and La Chouffe, and then a trip to Belgium for the weekend to sample the same bier straight from the tap!
New Years holiday on a boat on some tiny island off the north coast,
Going to see world class bands like the De Sjonnies at a local festival, and seeing some smaller acts like Bon Jovi at The Arena
The wonderful craziness of Carnival in Boxtel and Queens Day on the canal with those mad, mad costumes and music
The end of season rugby tour to south of Spain, where we didn't even play any rugby!
Rugby Firstly I think about the weather! I had never played in a snow blizzard before, and I have never played as much rugby (mostly the great game of 7's!) in glorious sunshine in April/May!
I was there for 3 ½ seasons, and they were all very different:
2002/03: We were still playing in the Eerste klasse aiming to get back into the top flight.We had a few comfortable wins, but plenty of close games too, and the league title came down to one of the last matches versus Den Haag II which we won. I think that was the only league title I ever won playing any sport, and I still have the grey polo Champions shirt someone rather confidently got printed before the final game! We went on an open-top canal boat trip to celebrate winning the title, kind of like what Ajax would do when they won the league, just without the 10,000 supporters cheering them on! I'm pretty sure we had a game versus AAC the following day (Beker Cup?). They weren't too impressed at the state we arrived in, and were even less impressed when we beat them! That season we also made the final of the National 7's tournament, knocking out a couple of the top flight teams on the way to their great surprise!! They should have known that you should never write off ARC in 7's!
2003/04: we were promoted back into the Ereklasse and it was the opposite of the previous season, most games were large losses, with only a few close games against the other weaker teams. We finished near the bottom of the table, but thought we had done enough to avoid relegation. Then some genius at the Dutch Rugby Board decided there should then be more relegation play-off matches! But we survived those too, and looked forward to another year in the top flight.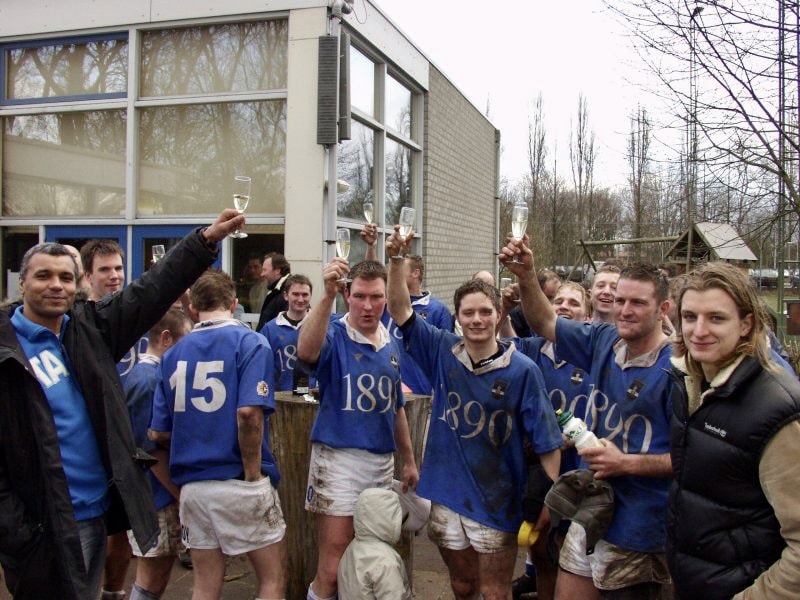 2004/05 and 2005/06 the team was much stronger and ARC was back as a genuine top-4 team. 2004/05 we qualified for the play-offs in 3rd, notching up wins against the likes of Castricum and more than holding our own against t'Gooi and Den Haag who had put plenty of points on us the year before. We went out of the play-offs in a well-fought semi to Castricum So while the first and third season were more 'winning', I still remember the middle one the most fondly. For some games against the top teams, a good day was scoring 1 try and keeping the other team under 90 points! Against the mid-tier teams maybe we could get 2-3 tries and keep them under 40! And then the scraps versus the other struggling teams. We had to call some of the ARC legends out of retirement when we were short on numbers, and some of the juniors got promoted very quickly to the 1st team, and did brilliantly! And despite coping a few hammerings we hung on and stayed together, because we had formed tight friendships off the field, and because we still enjoyed the 'third half' (the team dinners at 1890 afterwards…..those ribs!!!), where we could hold our own with anyone! And it was still great fun, and it made the successful seasons that followed all the more sweet for having gone through that season together!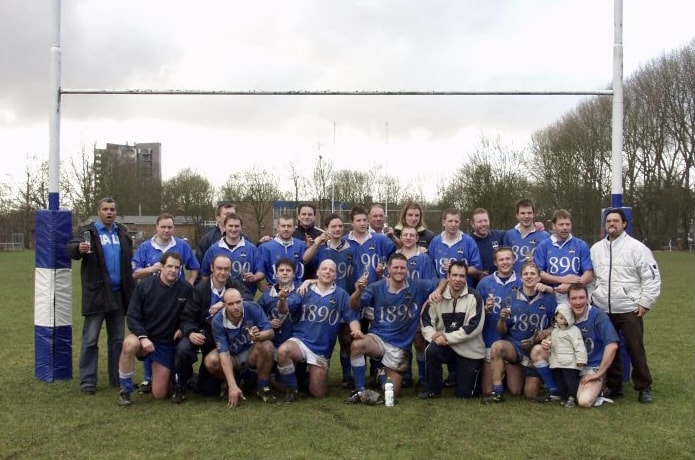 The third half I think about that cosy little clubrooms on Sportlaan, before the magnificent new clubhouse was built. I've been inside a few rugby and football clubrooms in New Zealand, UK and Europe, and they are almost all warm and welcoming, but there is something special about rugby clubs and the way they cherish the '3rd half', but the ARC clubrooms is still one of my all-time favourites. The club photos from the past, the plaques from visiting teams on the wall, the beautiful Frieda behind the bar, the smell of frites and croquettes wafting from the kitchen, and the 'old-timers' standing in their corner after trainings and games, nearly always surrounding the great Maestro, Gerrit Dekker, and keen to talk about the game over a beer.
That day we beat Castricum they were even more 'merry' than normal when we came in from the sheds, as apparently it was the first time we'd beat them in 15+ years! I visited the new clubrooms when I was back in 2013 and they are amazing, but call me old-fashioned and sentimental but I'd take the old ones any day!
I hope this finds you all safe and well in these crazy times. It's been good fun getting out the box of memories and playing a bit of Golden Earring and Anouk. Hopefully in the not too distant future the thought of a visit to Europe and an evening at the new clubrooms isn't just a dream. And if any of you ever get down to New Zealand (once we start letting people in again!) please look me up.  
Vriendelijke groeten AC